Roger Linn
Outline
1. Street View screen captures
o Rathaus Hamburg
o Strausberger Platz In Berlin
o Wilsdruffer Street Dresden
2. Links to Street View panoramas
o Strausberger Platz in Berlin
3. TripGeo Street View Animations
o Route from Rathaus to Strausberger
o Route from Strausberger to Wilsdruffer, Dresden
o Route from Wilsdruffer to Rathaus
4. Moore's Where to Invade Next
o The value of travel
---
1 Street View Screen Captures
Insert three screen captures here with descriptions.
RatHaus Hamburg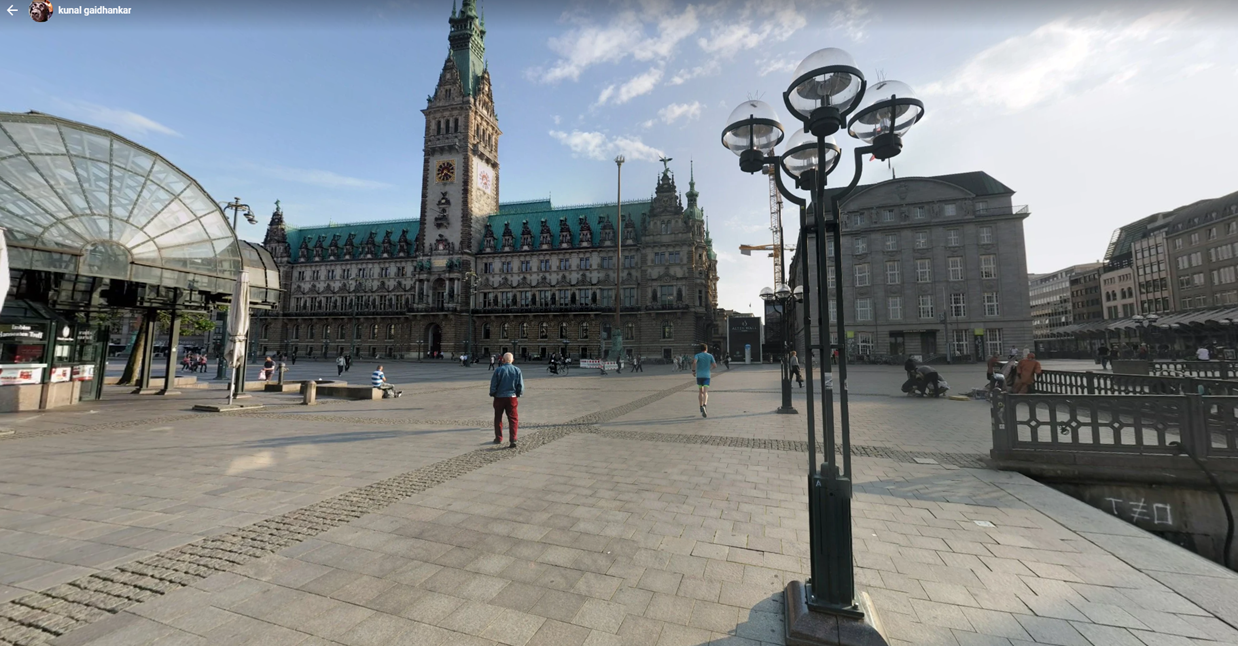 Rathaus in Hamburg is their city hall. Found in the heart of Hamburg, as you can see the image above the city hall building is very noticeable due to the size of the building and the blue tiles can be spotted miles away in comparison to the neighboring buildings.
Strausberger Platz In Berlin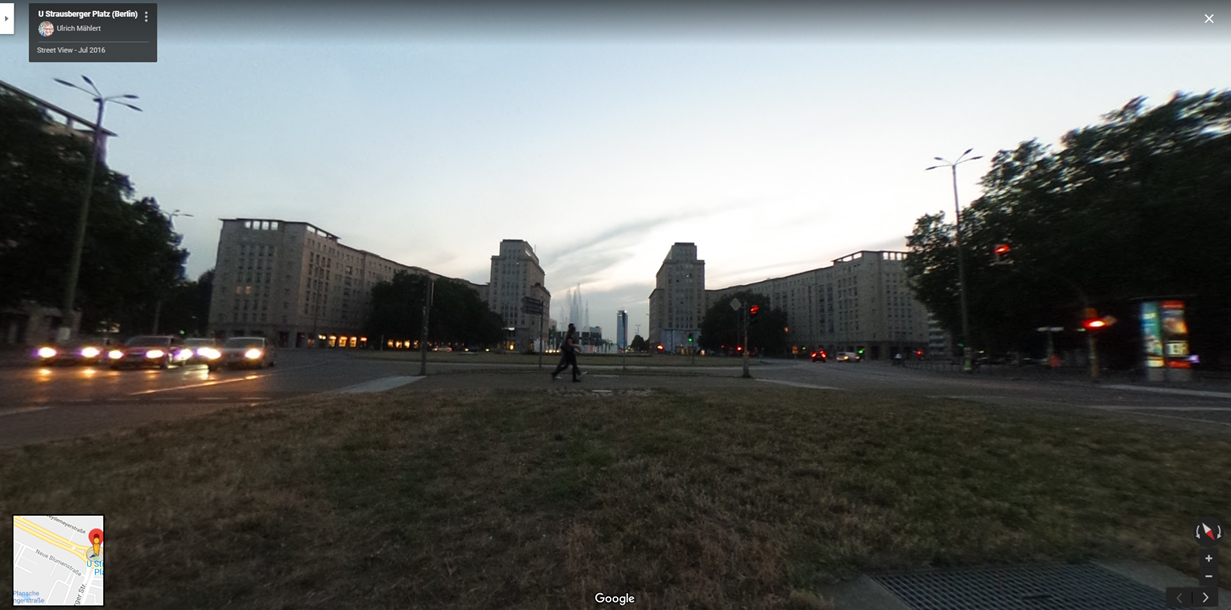 Two major streets in Berlin converge at the Strausberger Platz. The photo is the epicenter of the U-Bahn which the streets connect. The architecture was destroyed post world war two and was re-constructed in 1952. The U-Bahn entrances have been altered in 2003 due to traffic and continues to have several pedestrians in the traffic-heavy area. A statue can of Karl Marx can be found near the center of the U-Bahn.
Wilsdruffer Street, Dresden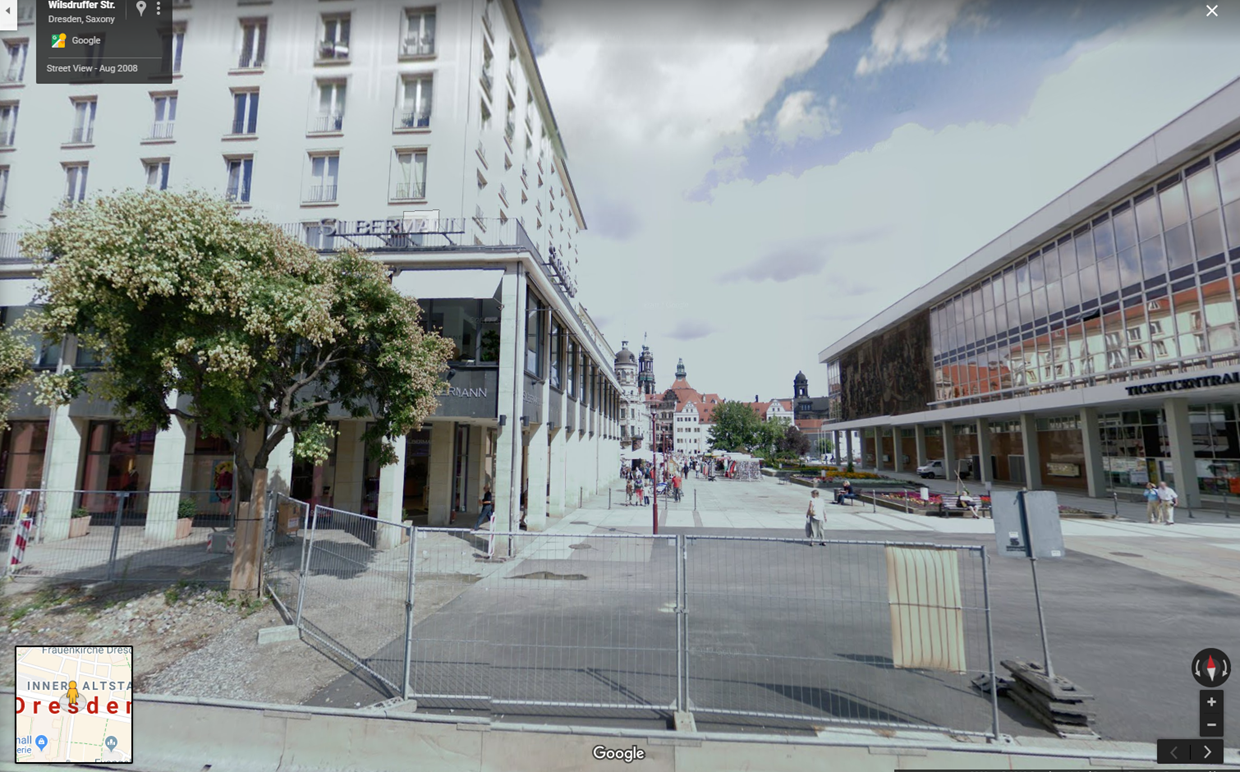 Located in Saxony, Dresden, Wilsdruffer Street has a plethora of convenient hotels and shopping malls around. The street is close to a main Train Station for casual with a lot to see in the condensed area. Hotels on the street are known to be very simple and affordable. Which makes it a key place to travel based on a budget and convenience.
2 Links to Street View Panoramas
Example-1: RatHaus Hamburg
Example-2: Strausberger Platz in Berlin
Example-3: Wilsdruffer Street Dresden
(Links were created by going to the location and clicking on the Pegman (yellow man in corner of Google Maps). Drag the Pegman over the map and choose a location on a blue line that has a good point to view of the feature. Once the Street View image is visible, copy the web address. In Word, write out the name of the feature (e.g., Eiffel Tower in Paris), highlighting the text, and then choose Insert Hyperlink and paste the address.)
3 TripGeo Streetview Player
Hamburg-Berlin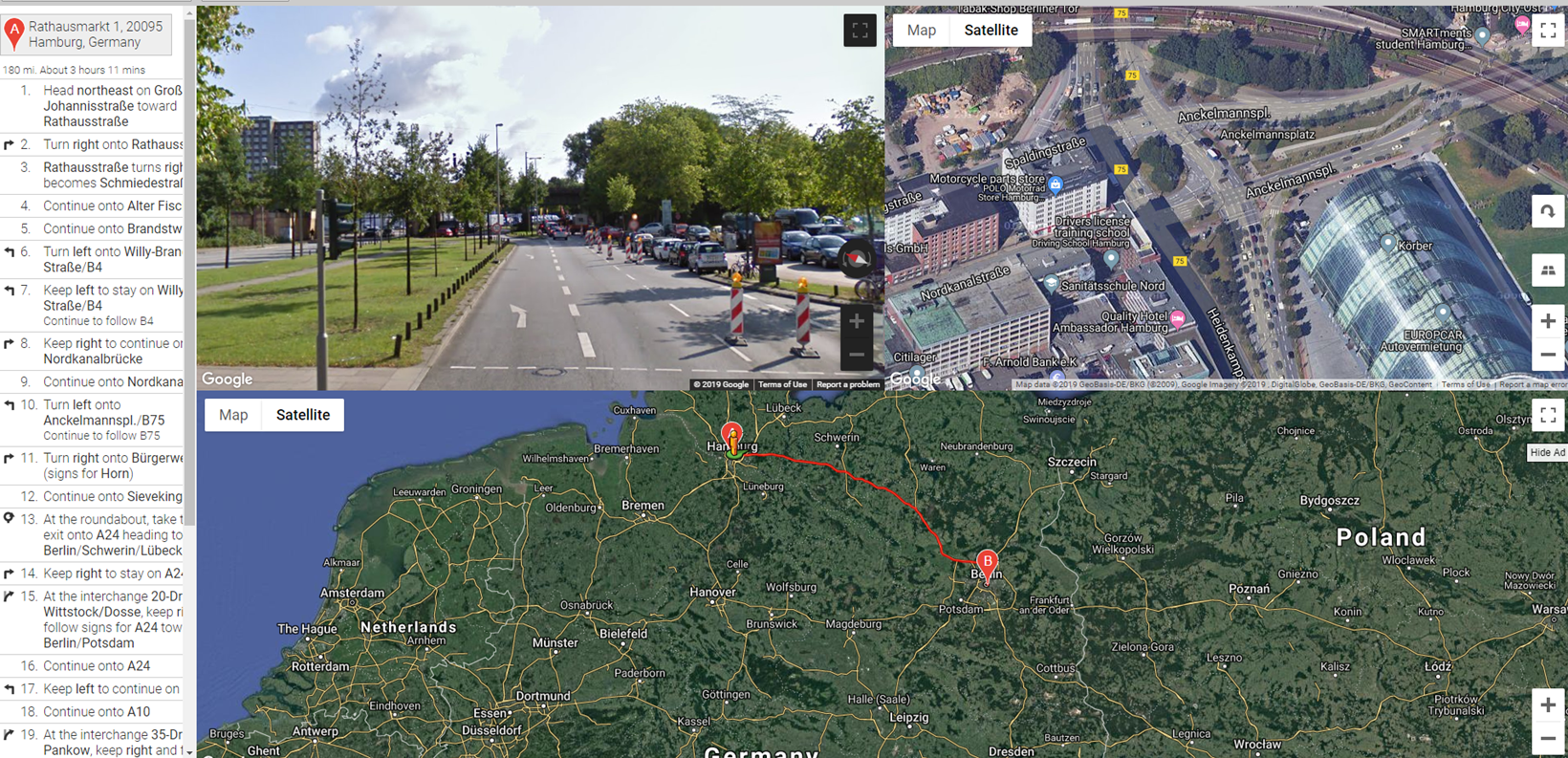 This Street View animation takes us between two locations in Germany Traveling Eastbound Hamburg to Berlin. At the beginning, one sees an older City Hall in Hamburg. We then drive through the Autobahn of Germany countryside into a Berlin. The trip takes a little over three hours. Germany is known for the Autobahn and its speedy travel which is why by car is probably one of the most efficient ways to travel city to city.
Link to animation: https://www.mapchannels.com/routemaps2/routemap200.htm?saddr=(53.5496383%209.9924848)&daddr=(52.51822%2013.42795)&via=&maptype=2&units=2&fi=50&fs=1&z=15&timeout=300&be=true&sw=240&svz=2&svc=0&atw=160&fgc=000000&bgc=CCCCCC&rc=FF0000&rw=3&ro=0.7
Berlin-Dresden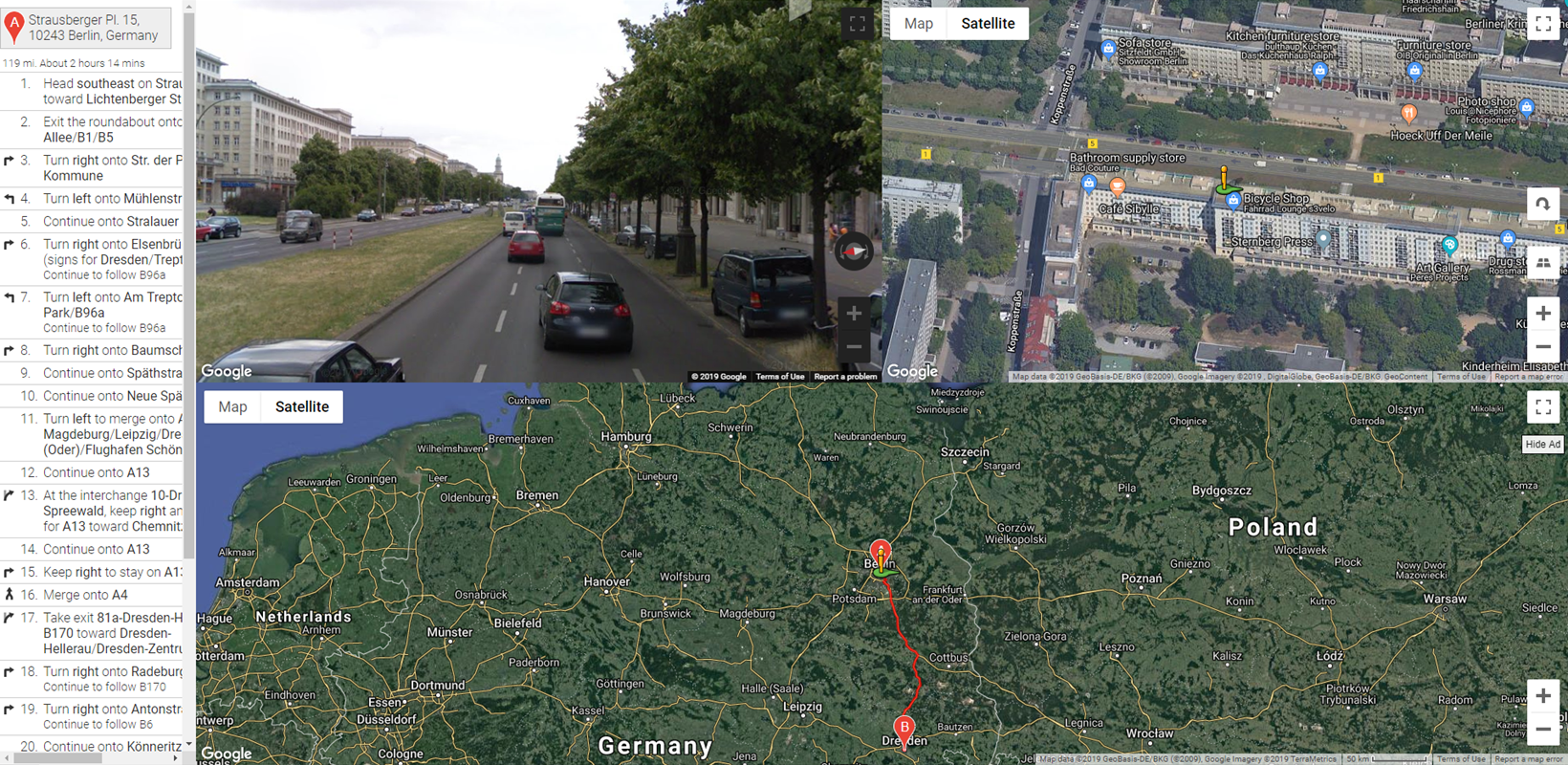 Berlin to Dresden is a significant less travel in comparison to Hamburg to Berlin. But the travel is only an hour shorter. A13 is the bulk of the travel to Dresden. A13 is a very green and grassy land with several villages during the travel. The map is very clear and the instructions are very easy to follow. I do not see how I could get lost with using these two street directions to map my journey.  The drive is a reasonable travel time, and the travel to each destination offers different regions of Germany to venture.
Link to animation: IMPORTANT NOTE: Play the animations to see the pictures. They do not pop up if not in the view mode.
 https://www.mapchannels.com/routemaps2/routemap200.htm?saddr=(52.5182244%2013.4279516)&daddr=(51.05005%2013.73911)&via=&maptype=2&units=2&fi=50&fs=1&z=15&timeout=300&be=true&sw=240&svz=2&svc=0&atw=160&fgc=000000&bgc=CCCCCC&rc=FF0000&rw=3&ro=0.7
4 Moore's Where to Invade Next
Moore's documentary is politically polarizing. Conservative columnists, such as Armon White, are sharply critical of the movie. First, comment on the validity of White's negative review. Then, putting aside politics, what can the movie show us about the value of travel in understanding our own country.
          As for Armon Whites critique on the Documentary Where to Invade Next, I believe White has a valid point that Moore only inspects the errors of the United States in comparison to other countries that are different to the United States that found success. An example of this is in the film he immediately gets his stance across by stating "We're going to focus on America's problems, then the most awesome things of other countries." Despite what political stance; the film does a good job at describing the differences other countries have from The United States. The kicker is he uses his films to misinform others in a slanderous and arrogant expression. As the value of travel can be shown even in our own country to remind us that as big of a world power the United States is, we have our issues domestically, and other countries sometimes have better alternatives than we do. An example used is the governments role in our education system. Not one country has a perfect education system, and Moore uses his political figure to push his ideology onto his viewers. Though he can be convincing, he is hasty and does not always use relevant information that applies to the United States. In other words, some things he says or believes may be right, but he does not offer a better solution and his divisive persona can only divide individuals further.