Ground Transportation for [Country/Region]
Options for traveling within [Country/Region] for a 21-day period
---
Outline
1. Car
2. Train / Bus / Air
3. Other Options
4. Estimate of total ground travel expenses
---
Travel Book
I decided to purchase the Lonely Planet ebook for Germany. It will be beneficial to use for my itinerary and to find out more on ground travel of the country. The book consists of several itineraries and many useful transportation tips.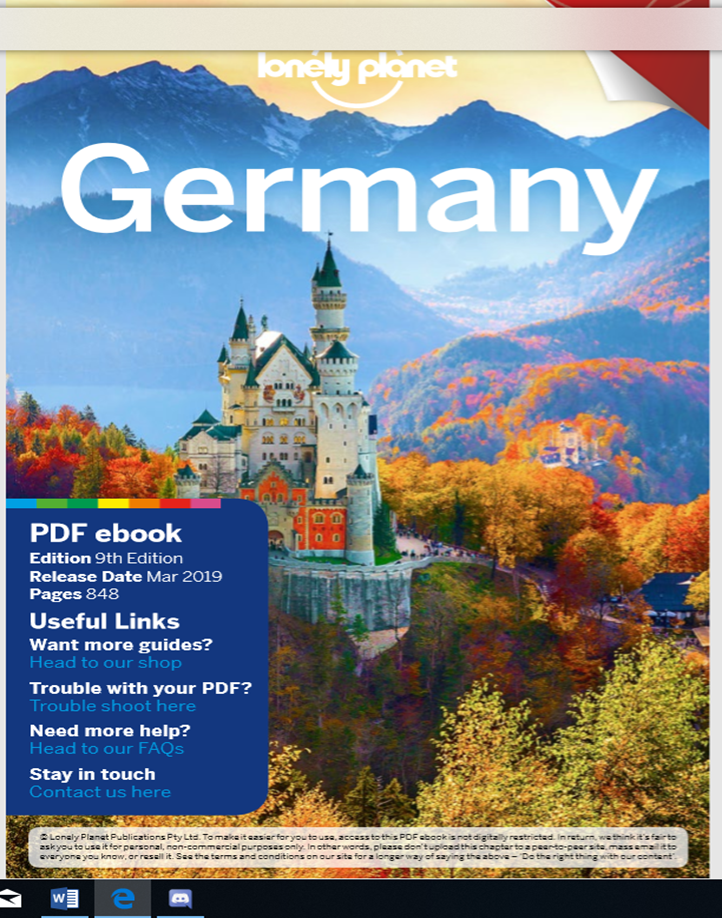 Car
The Ford KA is my cheapest and most convenient option. The vehicle is going to arrive at the Munich airport when I land which is very convenient. It was the cheapest route on AutoEurope.com. Extremely efficient the Ford KA can get up to 52 miles to the gallon. The tank size is 35 liters costing 41.65 euros per tank. The vehicle also has rental protection, so there was no extra fee for me (who falls in the age range of 21-25). A drive to Munich to Berlin can be take about 6 hours and is 363 miles apart. The gas on this trip alone would be about 48.74 Euros. Gas outside of the trip will be around 60 euros. The lonely book claims Munich can be a nightmare to travel by car or motorcycle, so traveling by vehicle while in the city will be rare.
 Car with sticker= $378.92
 Gas= $100
 Total Car Cost- $478.92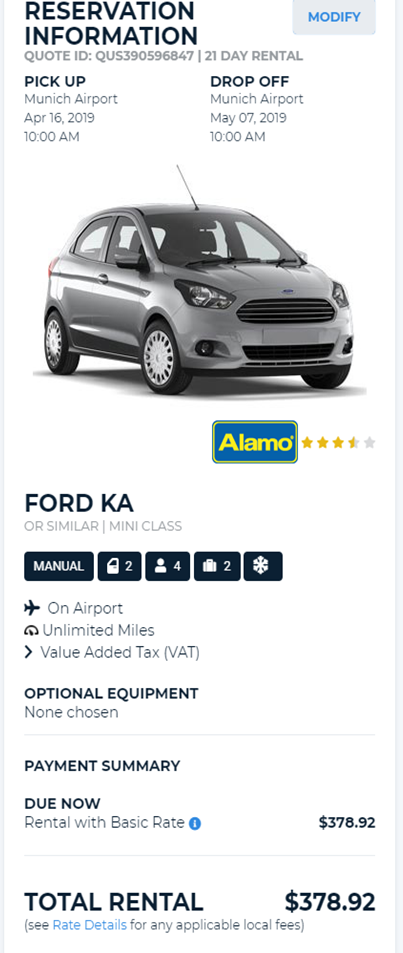 Train / Bus / Air
One transit choice I could use is the Munich City Tour Card. The Munich City tour card would be most ideal. I could use the card for three to five days and then renew it if I stay longer and save money on gas. I could possibly even go this route and use a bicycle to cut costs. As well as cutting on costs, Munich gets warm around the month of April so this option of utilizing a bicycle is possible.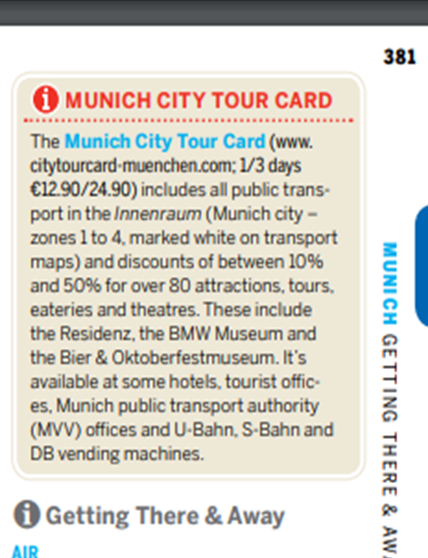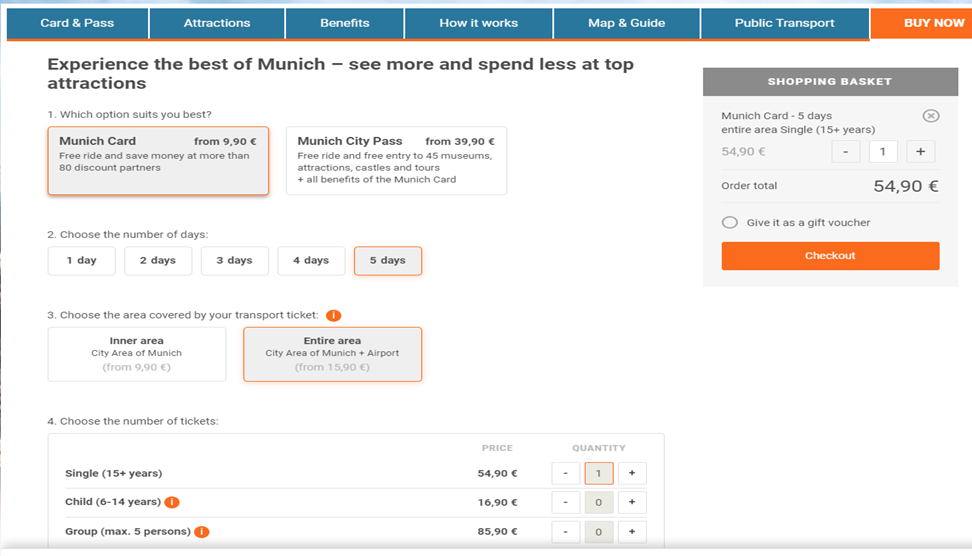 Bus total= 281.00 Euros ($318)
Train is a great way to travel in Munich. The services leave the Hauptenbauf which is the central station.  The Lonely Planet compromised several locations Munich goes to as well as their pricing to major cities in Germany. Berlin is where I want to go to so this will be 150 euros. After discovering the Eurail I found a good deal on a pass. They pass entails me three times to use the Eurail in while traveling through the country. I decided to travel towards East to Berlin, and then travel to the West to Cologne, Germany. The Eurail pass for three uses costs $229.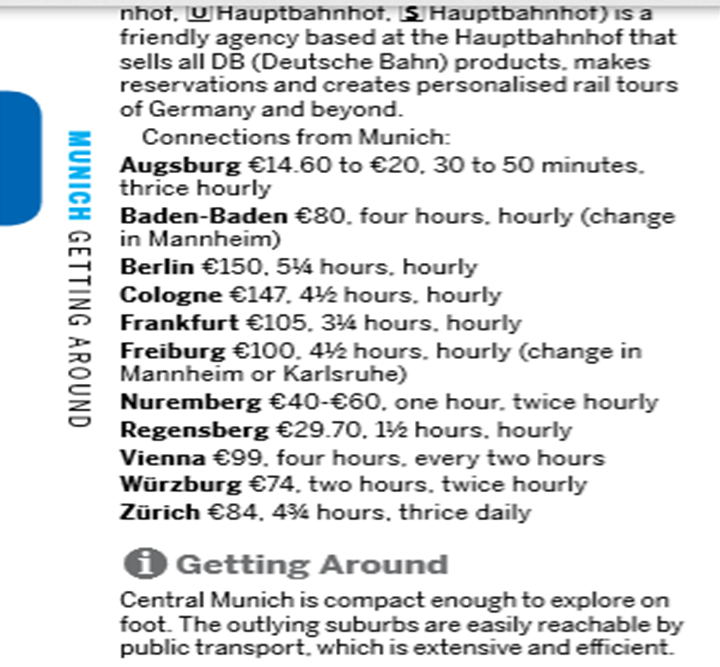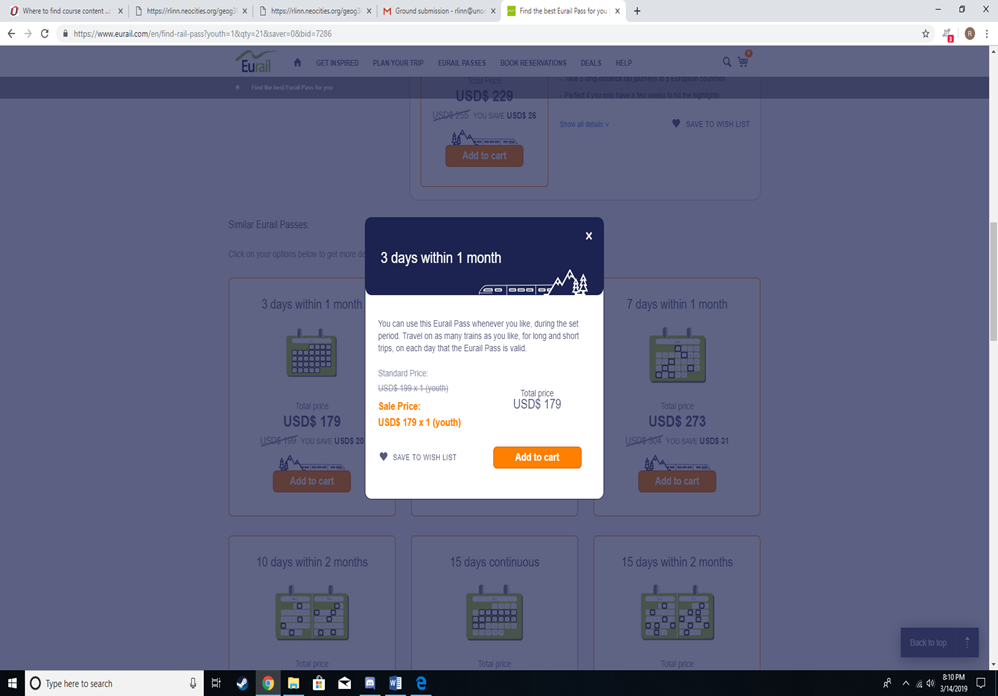 Train total= $398.00 (352 Euros)

Lonely Planet Suggestion
The text suggests taking a four-week vacation to get a full Germany experience. I will only have twenty-one days to travel but Munich is in the middle of the tour, so I can branch off once I go to Munich. So I will not be able to make all the stops the itinerary says, but once I visit Munich during the middle of my stay, I will utilize the Eurail passes above. Since I am flying in from Munich I will use one of the passes to go to Berlin (one of the more popular options). I will start from Berlin and will follow the itinerary as followed in the image below.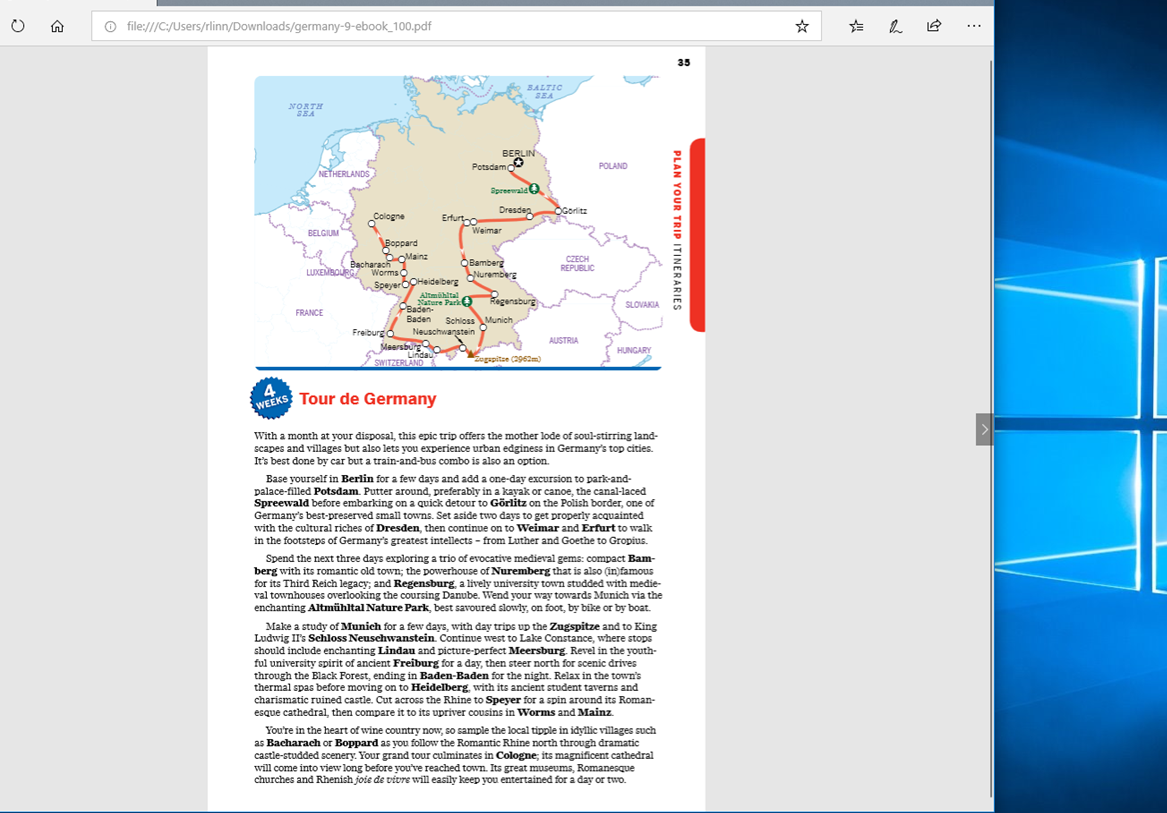 Other options
Traveling by bicycle is also another great option. The only thing is if I went this route, I would have to plan one day ahead and purchase an Internationale Fahrradkarte for ten euros. The bike will be used for travel in the dense parts of Munich for short distance travel.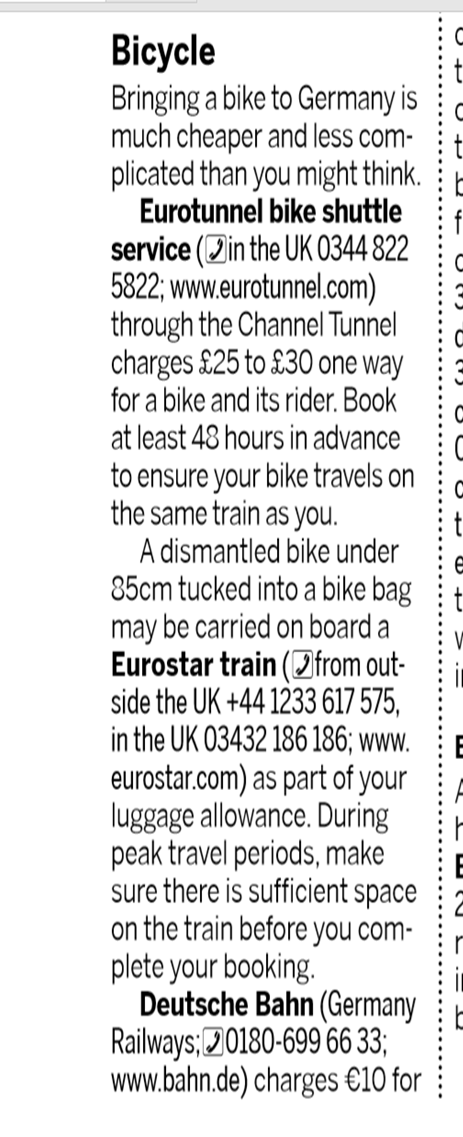 Bike Cost=$40
Estimate of total ground travel expenses
Car expenses-
The total cost of traveling within Munich, Germany for a three-week period is $1,197. This is high but the gas in Germany, but this allows me to travel if I do not need to use a bike or catch a bus.
---
Submitted by Roger Linn on 3/13/2019.