Least Expensive Around the World Airfare
Visiting all continents in the world for at least one week, including the two most populous countries in the world (both in Asia).
---
Outline
1. Method
2. Influence of travel dates, places visited
3. By Air
4. By Bus and Air
5. Bus Graphic
6. Airfare graphic
7. An Idiot Abroad
---
Method
I tried the google flights first. Then I found that Skyscanner was cheaper for me. Prices tended to decrease when I looked up flight tickets at midnight compared to the middle of the day. Revising my prices in the middle of the night saved me hundreds of dollars on plane tickets. I am not sure if that is just a coincidence, but I got upwards to fifty dollars off for a handful of tickets. So, I highly recommend doing your research on tickets at night. Skyscanner was also user friendly compared to the other handful of sites I tried to use (and failed).
Influence of Travel Dates, Places Visited
Influence of travel and dates are mostly depicted on the cheapest way to fly around the world. Though some countries are cheaper in comparison to other countries in the continent, my travels were more based on cutting cost by wasting the distance between the countries as possible.
By Air
The least expensive airfare flying from Omaha to all continents. Stay on each continent at least one week.
Date

Origin - Destination

Departure - Arrival Time

Flight cost $

Visa cost

Comment

5-1

Omaha Eppley- LAX

5:45am-9:04am

$137

No visa cost

5-1

LAX- Hong Kong International

11:50am-6:20pm

Hong Kong International-Pek Beijing Capital

8:20am-11:45pm

$381

$140

5-8

Pek Beijing-Haikou

Haikou-Sydney

3:05pm-7:05pm

10pm-9:15am

$205

109

3-month single entry for Sydney.

5-15

5-15

Sydney-Perth

Perth-Bangkok

Bangkok-Copenhagen

1am-7:10 am

4:20-pm-10:20pm

1:20am-7:40am

$103

$485

$67

5-22

Copenhagen-Athens International

Athens International- Cairo

6:10pm-10:20pm

11:55pm-12:50am

$142

$25

Americans are hassle free of visas until 90 days. I only needed $25 for Cairo's visa fee.

5/29/5-30

Cairo-FCC Rome Fiumicino

FCO Rome Fiumicino-SCL Santiago Arturo Merino Benitez

 3:30am-7:15am

10:10am-7:15am

$777

No visa cost

U.S citizens are allowed to travel to Italy and to all other members of the Schengen Area for up to 90 days for tourist or business purposes without a visa, as long as your U.S. passport is valid for at least 3 months after your planned return to the United States.

6-5

Santiago Arturo Merino Benitez-Lima

Lima-Mexico City Juarez international

2:05pm-5pm

6:55am 1:30pm

$117

No visa cost

Visa cost is nothing if you have a valid passport.

Mexico City Juarez- LAX

8:32pm-10:43pm

$386

Sum $2,616

Sum: $341
The total cost to fly around the world, including visa costs, is $2957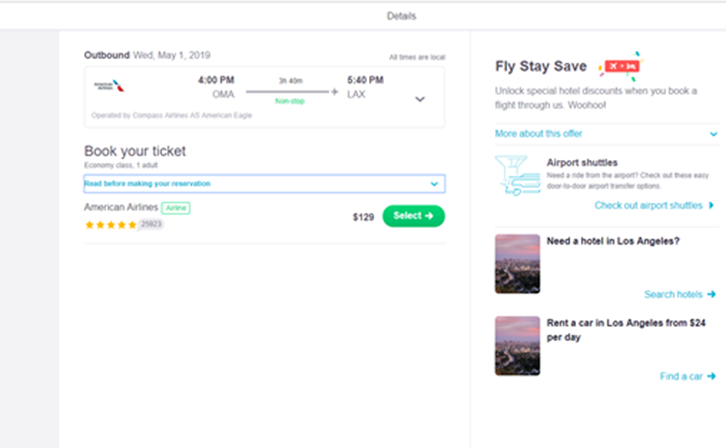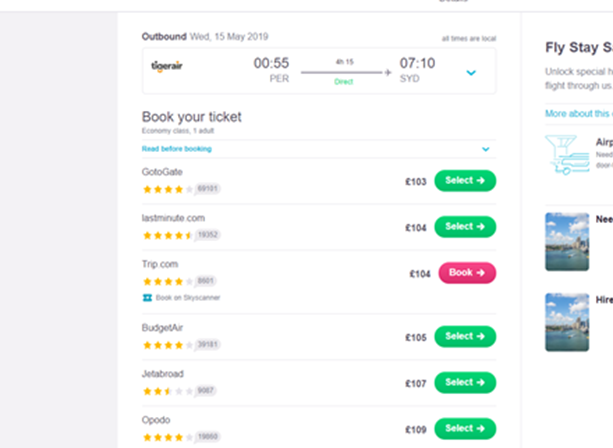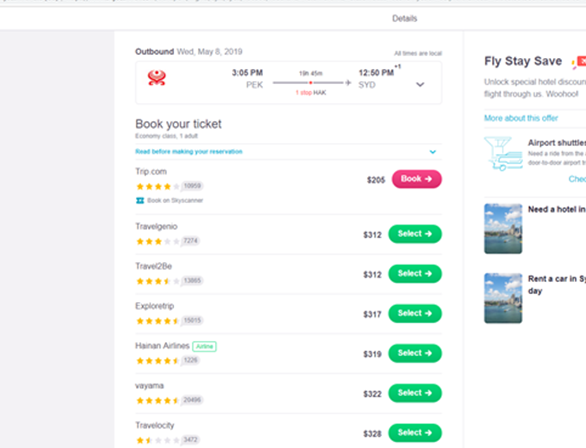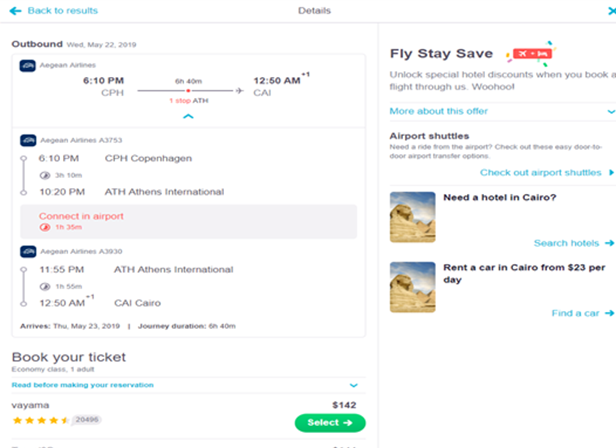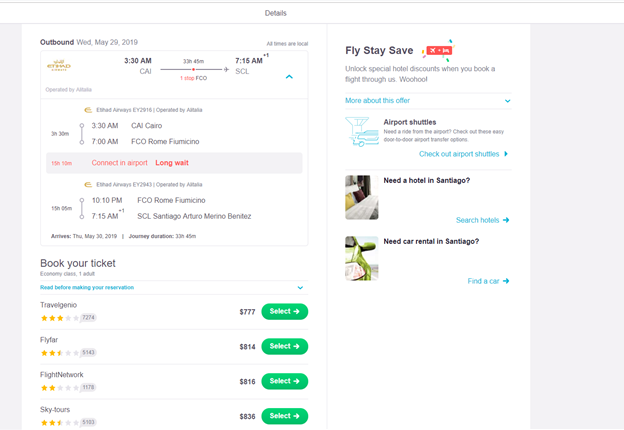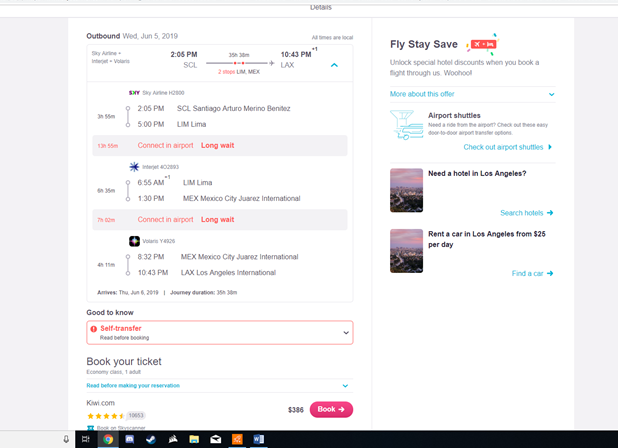 By Air and Bus
The bus connection was surprisingly more expensive than flying. And for obvious reasons I chose to fly rather than take the bus. Flying is faster and more convenient.
Bus Graphic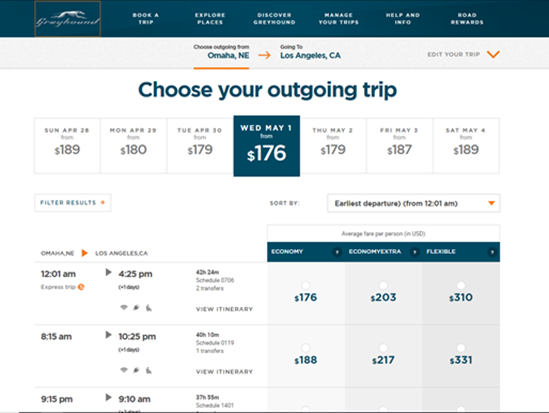 Airfare Graphic
The red lines depict the flights and which countries they land in. I start eastward towards China then loop my way back around. The country list goes as followed
U.Sà CHà AUSà THAIàDENàGRàEGYàITAàCHIàMEXàU.S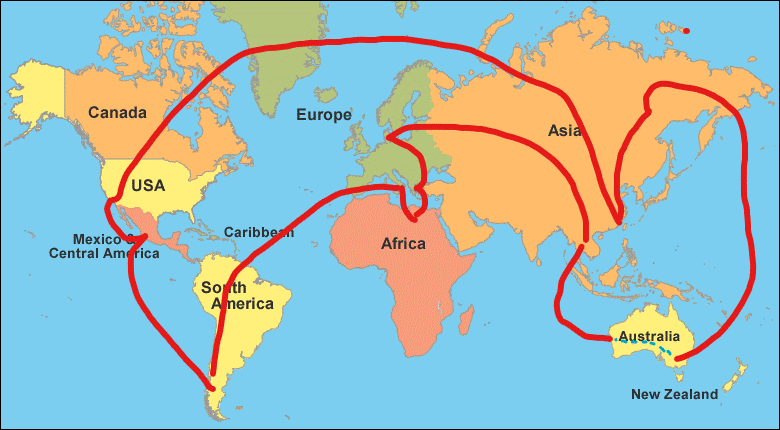 An Idiot Abroad
1) The point of his story being trapped. Karl uses the toad stuck in the well as a metaphor in travel. If you do not travel you will only be able to see your perspective and hinder your opportunity to grow and see the world.
2) The lodging was not anywhere near what Pilkington was used to. He took toilet paper for granted as it was only offered in luxurious lodging. The lodging was very small with few amenities compared to what the Western Culture is accustomed to. He was the most comfortable in the honeymoon suite because of so. Pilkington was not used to not having privacy and he definitely was not accustomed to the Indian culture as he was a toad in his well like he explained.
---
Submitted by Roger Linn on 3/27/2018.