Least Expensive Airfare to Four Continents
Least expensive air travel from Omaha to four continents - Europe, Asia, South America and Africa.
---
Outline
1. Ground rules
2. Method
3. Influence of travel dates
4. Least expensive round-trip to Europe
5. Least expensive round-trip to Asia
6. Least expensive round-trip to South America
7. Least expensive round-trip to Africa
8. Sum total of all three airfares
Ground rules
This is somewhat of a competition. I give extra points for the person with the least total airfare to all of these continents. All airfares must be roundtrip from Omaha, and must for be a three-week period from now until Sept. 1. It can be two different airlines, in which case you would present two different graphic files. The timing must be such that you can make the connection. Provide at least 3 hours. If the connection has you spending the night at the airport, you must include the cost of a hotel.
Generally, the least expensive fares to these destinations are from coastal cities in the US, like LA and New York. In order to get the lowest fare, you need to find the least expensive coastal city and the least expensive flight from Omaha to that city. Sites like Kayak and Expedia won't do this automatically. There may be some ground transportation involved in transferring to a nearby airport. Include the ground transportation cost and associated graphics. Bigger cities have multiple airports so don't get confused. New York, for example, has five airports: JFK, LaGuardia, Newark, White Plains, and Newburgh. Only three offer international flights. The cheapest flights are often from the smaller airports that charge a lesser fee for landing.
You don't need to check luggage but you do need to include a carry-on bag.
Prices vary widely during this period. They also vary by day of the week. You must present screenshots of the airfare with sufficient detail to verify the dates, connections, and price - including taxes. Use only commercial airlines - you can't use military aircraft or family connections with commercial companies. The flight leaves from Omaha 'Äď you can't drive to another city.
Method
I used the Skyscanner website in finding my airfare tickets. I used Skyscanner because Skyscanner was one of the sites that apparently has the cheapest prices in finding flights.
Influence of travel dates and cities
Then influence of the travel dates were to get the most bang for my buck. I tried to fly out when they said they had deals. The dates were for my schedule as my work and achool schedule tapers down allowing me to realistically make these trips. If I were taking these trips I would take them on the appropriate dates. The influence for the Cities are based on where I would wish to travel as well as saving money.
For Copenhagen I think it would be cool to see the architecture of the City as there are several villages that have been structures since the 17th Century. Denmark is also extremely close to Germany making it easy to explore Germany. Germany is probably my top places to travel throughout Europe. My sister and I have always wanted to travel to Germany and she promised to take me if I placed in state wrestling after our vacation to Santa Monica. So if I did go to Copenhagen I would definitely try to venture to Germany as well.
Seoul South Korea is one of the top places I wish to travel if I were to travel to Asia. I enjoy the rich history of Korea and would like to learn more. Another big factor is that English is a widely spoken language which would be convenient.
For Latin America I chose Ecuador because my friend visited Quito and he said it was there was a lot to see there. I honestly donít know much about their history, but I would enjoy seeing Quito. I would also enjoy their subtropical climate!
For Africa I never thought about making a vacation, but after doing some research, I would prefer going to Abuja, Nigeria. Seeing Zuma rock in person would be a cool experience. Going in April, I would be experiencing one of their hottest months (96.1 Fahrenheit) with minimal rainy days (4 on average).
Least expensive round-trip from Omaha to Europe
CopenHagen, Denmark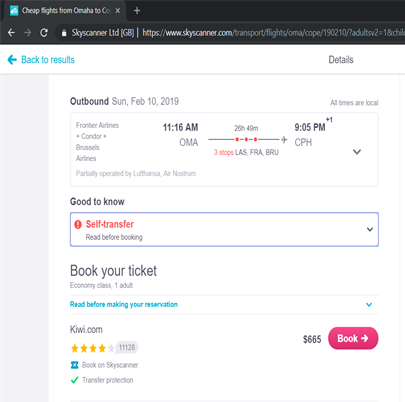 Least expensive round-trip from Omaha to Asia
Seoul, South Korea.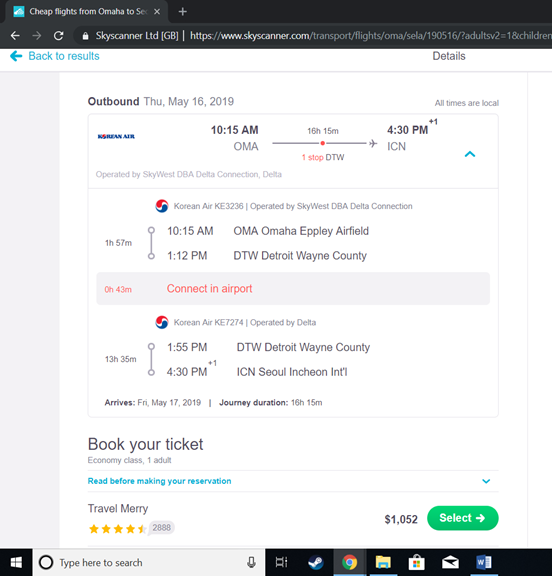 Least expensive round-trip from Omaha to South America
Quito, Ecuador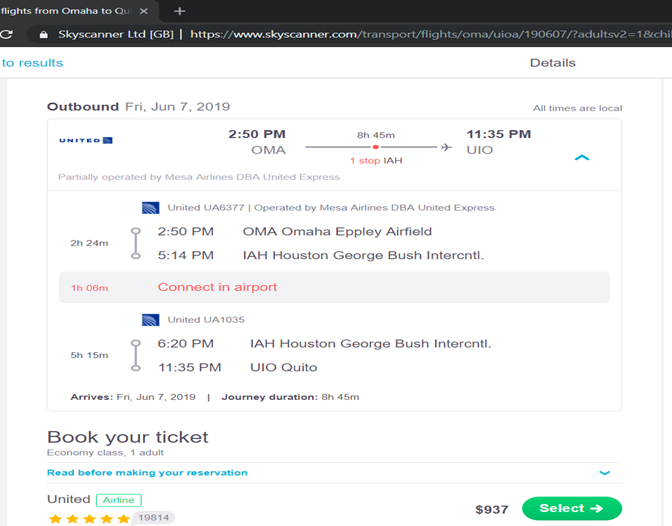 Least expensive round-trip from Omaha to Africa
Abuja, Nigeria.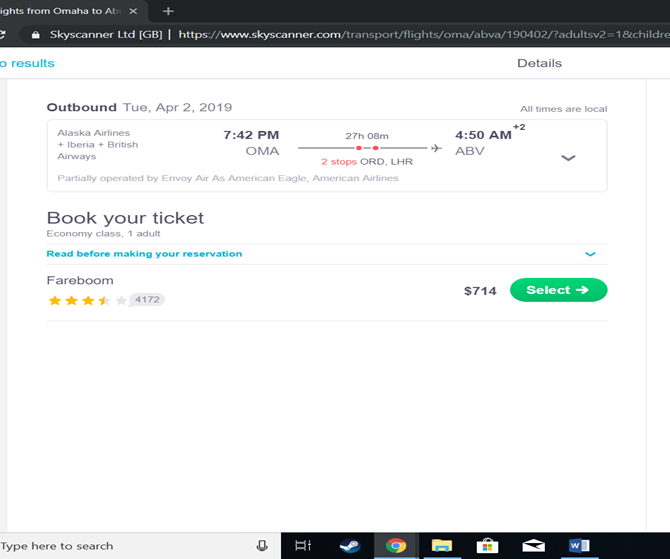 Sum total of all four airfares
Europe: $665
Asia: $1052
South America: $937
Africa: $714
Total price: $3,368
Submitted by Roger Linn on 2/8/2019.